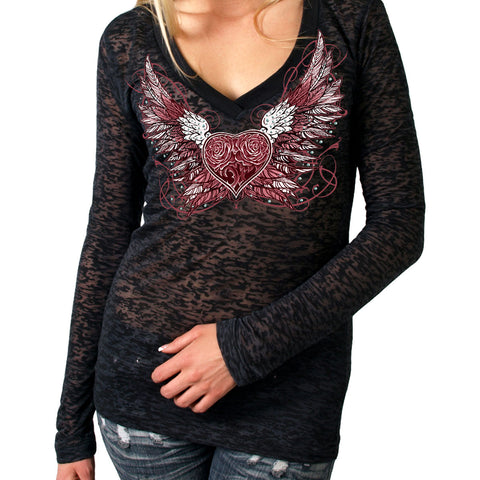 V NECK SPARKLE WINGS BURNOUT - LONG-SLEEVE V-NECK LADY SHIRT
Black 55/45 Cotton-Poly Blend, ladies lightweight deep V-Neck, burnout Tee. This semi-sheer sexy tee has a tapered waist with long sleeves and features Sparkle wings design on the front. The Sparkle Wings tee is perfect for the flirty biker who enjoys looking good wherever she goes. Wear this tee to the next big event or during a ride around town and turn heads wherever you go. Get yours today! Due to the burnout process, each shirt will vary slightly in appearance.
Standard sizing
S
M
L
XL
2XL
BUST cm
86-90
91-96
97-104
105-114
115-119
WAIST cm
63-67
68-73
74-81
82-91
92-101
HIP cm 
91-95
96-101
102-109
110-119
120-125
Measure your bust under your arms around the fullest part of your chest (Note: this measurement is usually larger than your bra size).
Measure your waist around your natural waistline, keeping the tape comfortably loose.
Measure your hips around the fullest part of you hips (approximately 8" below your waistline).